Eystna Blunnie death: Murder accused 'found her wounded'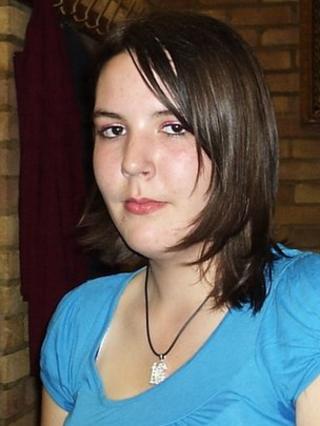 A man accused of beating his heavily pregnant ex-fiancee and their unborn baby to death has told a court he found her fatally wounded in the street.
Tony McLernon told Chelmsford Crown Court how he had met Eystna Blunnie by a bench in Harlow, Essex, in the early hours of 27 June last year.
As they talked, two men appeared and started an argument with Miss Blunnie, 20, he added.
Mr McLernon denies the murder of Miss Blunnie, 20, and child destruction.
Unemployed Mr McLernon, 24, of North Grove, Harlow, said that once the men left, he gave Miss Blunnie a kiss goodbye and went home.
'I nearly screamed'
"As I was walking I heard a scream and thought somebody was being attacked," he said.
"I ran back to see if that person was okay and saw two people jumping up and down.
"I saw the two men run off up a path and, when I saw Eystna injured in the street, I nearly screamed."
He said he tried to put his former partner in the recovery position.
"There was more blood than I care to remember and she made a horrible sound," he added.
"I tried to turn my phone on but it took a while to load up. There wasn't anything I could do.
'No fit state'
"I saw one of the men running back towards me so I panicked and I ran.
"I was in no fit state to try to defend her - the look in his eyes was terrible and I thought he was going to give me a kicking."
He added that he had not been able to tell anybody about what happened that night because "it made me feel sick".
Opening the case, prosecutor Andrew Jackson told jurors that Mr McLernon had lured Miss Blunnie to her death by sending a text message reading: "I've got a surprise for you."
When she met him in Howard Way near her home in Harlow, he brutally kicked and stamped on her before leaving her fatally injured in a pool of blood, Mr Jackson said.
Miss Blunnie, a catering student and barmaid, was due to give birth to a girl within days.
Guitar Hero
Mr McLernon said he had been "over the moon" about the impending birth, adding that, in the days leading up to Miss Blunnie's death, they had been getting on well.
Asked if the text message was part of a scheme to tempt her to meet him, he said "absolutely not", adding the surprise was that he had brought his dog, Alan, to see her.
Earlier he described how the couple got engaged in 2011 after meeting on Facebook but their relationship deteriorated and they split up early in 2012.
Mr McLernon described how he had become addicted to cheap supermarket alcohol and the Guitar Hero video game.
He said he had suffered from depression and was prone to self-harm, and denied claims he had physically abused Miss Blunnie and previous partners.
The case continues.