Southend air show falls victim to council cuts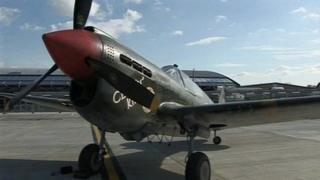 The annual Southend air show, which attracts thousands of visitors, has been axed by a council setting its budget for the coming year.
Conservative-led Southend Borough Council needs to save more than £10m to balance its books.
The authority also agreed a 1.75% rise in council tax and the loss of 80 full-time posts, 41 of which are currently unfilled vacancies.
Leader Nigel Holdcroft said they were having to make "real cuts" to services.
"We no longer have any leeway and we will have to make real cuts to services in order to balance our books - and that involves making some hard choices.
"We recognise that we have had to make some unpopular decisions in this budget, but I would like residents to remember that this crisis was not of our making."
Sponsor needed
Among other measures in the budget, the council is to end its £500,000 financial support for the 22-bed Cumberlege Intermediate Care Centre in the town.
It will also stop its contribution to the government-funded Parenting Early Intervention Project.
Speaking of the demise of the air show, which will save the council £130,000, Mr Holdcroft said: "We have been trying to get a sponsor for some years without success.
"What we decided last night was that we won't be doing the air show in the coming year - that's not to say that if a corporate sponsor should come forward that we won't reinstate it in the future."
Independent Martin Terry, opposition leader on the council, said he blamed Southend's budget cuts on the present government and what he called its "anti-public service" stance.
"It's a dreadful ideology the government is forcing on people," he said.
"As for the air show - when we're having to cut children's services and funding for vulnerable people, the air show starts to fall down the list of priorities."
Memorial restoration
Tom Curtis, one of the people behind the Save Southend Airshow Facebook page said he was "very disappointed" at the council's decision.
"It's not that surprising," he said. "It's felt as though the council has been dead set to kill off the airshow in 2013 if not forever."
The council also voted to close Southend Pier on Mondays and Tuesdays over the winter months, review its senior management structure and close Queensway House, home to the South Essex Partnership Trust's mental health and rehabilitation centre.
The council said that among other things it would be spending money on repairs to paths, the restoration of the borough's war memorials and sea defence work.