Essex woman arrested over unpaid restaurant bill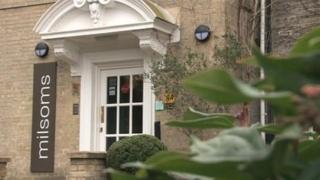 A woman has been arrested after four champagne diners failed to pay for their £520 meal at a restaurant in Essex.
Three men and a woman drank two £150 bottles of champagne and ate steak and lamb at Milsoms, in Dedham, before leaving on 16 February.
A 46-year-old woman from Colchester was arrested on Friday on suspicion of making off without payment.
She has been released on bail until April pending further inquiries.
On Monday, a restaurant spokesman said someone had come forward and offered to pay after the group were caught on CCTV.
"The restaurant had been approached by the individuals offering to settle the outstanding bill, but the matter still remains unresolved," said a police spokesman.