Garry Walton Tenerife death: Accused 'trying to help'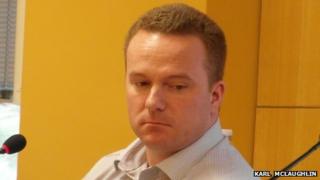 A man accused of killing a tourist in Tenerife by throwing him overboard from a boat more than 16 years ago has told a jury he was trying to help him.
Garry Walton, 21, of County Waterford, Ireland, drowned on an excursion off Playa de Las Americas in November 1996.
Businessman Darren Saptead, now 38, of Chelmsford, Essex, denies homicide.
Reading a statement at Santa Cruz court, he said: "I did not touch or harm Garry Walton that sad day... I hope you make the correct decision."
Mr Sapstead allegedly grabbed Mr Walton by the legs and threw him overboard into the sea.
The trial, which began on Monday, has heard two sisters Katie and Lucy Smethurst, of Manchester, were key witnesses but altered their version of events.
'Honest and friendly'
They did not approach police in the UK until 10 months after the supposed "accident" because they were "young and naive" and "intimidated" by Mr Sapstead, the court heard.
On the last day of evidence, Mr Sapstead read a handwritten statement and said he was "honest, friendly and good with people".
He said he had lost his business while in prison in Spain in 2005 and had been transferred between five different jails.
"These have been sad times for the Waltons and for my own family for the last 17 years," he said.
"At no point in my life have I hurt, or done anything to hurt, anyone or anything.
"I swear on my family's life I did not touch or harm Garry Walton that sad day."
'Lives ruined'
Mr Sapstead's lawyer Carlos Valenciano said the Smethurst sisters were "colluding to incriminate him".
He added that Katie Smethurst, who was 17 in 1996, had probably changed her story "to direct police attention away from herself".
State prosecutor Deborah Padilla urged the jury to remember not just the impact on Mr Sapstead, but that Mr Walton had been "deprived of the chance to marry and have children".
"The lives of his parents and those close to him have been ruined since the day his life was taken by the defendant," he added.
The jury is expected to retire to consider its verdict on Thursday.