Tilbury Docks straddle carrier had chemical load during fire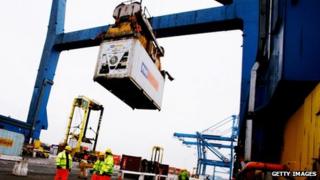 A container carrier which caught fire at a dockyard was carrying a batch of chemicals at the time, it has emerged.
The fire which broke out at Tilbury Docks in Essex on Saturday night is thought to have started in the engine of the straddle carrier.
Eight fire engines were sent to the docks, where the fire spread to a 40ft (12m) container on the ground.
Leigh Cork, of Essex Fire Service, said the carrier was holding a batch of chemicals during the fire.
The chemicals were unaffected, he said.
Tilbury Docks will be carrying out an investigation into what happened.