Basildon Hospital accused of mortality rates cover-up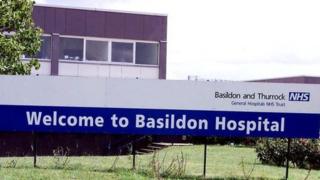 Mortality rates at an Essex hospital are being covered up, according to a campaign group whose claims have prompted a government inquiry.
Basildon Hospital, which denies the "cover-up" claim by campaign group Cure the NHS, is accused of concealing the full extent of death rates.
The hospital had 1,943 deaths between July 2011 and June 2012.
Cure the NHS fears its rates could be as great as those of the heavily criticised Mid Staffordshire NHS Trust.
Basildon Hospital's new chief executive Clare Panniker, said past problems are being tackled and figures would never be massaged to hide issues.
A BBC investigation has also discovered problems with out of date drugs, safety issues in paediatrics and hundreds of damages claims by patients.
Palliative care deaths
The government's NHS Commissioning Board is to investigate because the hospital had "poor results for a key mortality measure for a period of two years".
Julie Bailey, who founded the Cure the NHS following the death of her mother at Stafford hospital, fears the situation at Basildon could be identical.
"I am concerned about Basildon because of the nature and level of complaints that I have been receiving," she said.
"I think there has been a cover up of the harm that has been going on at the hospital like they were doing at Mid Staffs over a number of years."
Five years ago, Basildon, and Stafford had the highest mortality rates in the country but in 2008 both changed the way clinical coders recorded deaths.
Both hospitals began recording more than a third of deaths as palliative care.
Because these were not included in the overall mortality rating there was an improvement.
Social media campaign
The Audit Commission later found a large number of clinical coding errors at Basildon and the palliative rates have been reduced.
Professor Sir Brian Jarman, of Imperial College, which publishes the mortality figures, believes the public were misled.
"These figures are a trigger to look carefully and not dismiss the data," he said.
New chief executive Ms Panniker said: "We must be open and transparent about our mortality rates.
"It is about good quality care. It is not about playing games or fudging."
Next month, the hospital will be fined after pleading guilty to breaches of health and safety over a Legionnaires' Disease outbreak that led to four patient deaths.
Millions of pounds has been spent trying to eradicate the bacteria.
The hospital's paediatric department has had three serious incidents, including the death last October of a 10-year-old girl, when life-saving drugs could not be given because they were out of date.
An external review found under-staffing; unsafe practices; strained working relationships among consultants; and a junior doctor wrongly allowed to administer anaesthetic to a child.
Ms Panniker has ordered a major overhaul of her paediatrics department, including recruiting three new consultants and five nursing staff.
The latest Care Quality Commission inspection, in January, reported improvements but complaints continue.
Daniel Chapple, whose mother Pamela died at the hospital last month from a brain haemorrhage, said the family witnessed repeated incidents out-of-date medicine being used.
They have started a social media campaign action group, which has been inundated with stories of neglect and poor treatment.