Dale Farm: Travellers get £4.3m eviction bill from Basildon Council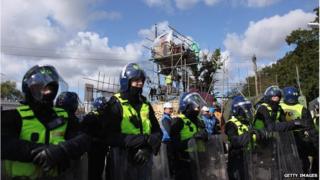 Travellers have been billed for £4.3m for the cost of evicting about 80 families from the Dale Farm site in Essex in 2011.
Basildon Council bailiffs, supported by police, cleared the illegally occupied land near Basildon.
The council had always maintained it would seek to recoup the multi-million costs from the travellers at Dale Farm.
The council said if travellers did not pay, it might seek to seize Dale Farm land.
Council leader Tony Ball said: "It has taken some time, but it is an extremely complex and time-consuming process and I am pleased that it has now been done."