Tesco 'treating staff like scum' over Harlow depot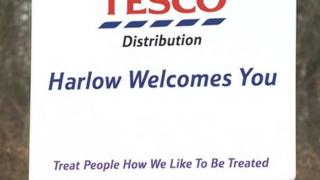 Angered Tesco staff have accused the company of treating them "like scum" over plans to transfer 800 jobs away from a depot in Essex.
Tesco announced last month it is restructuring its distribution system, with the closure of three centres.
Workers in Harlow are being offered alternative jobs in London.
At a meeting between Tesco and Harlow staff, workers said the move was about cutting wages. Tesco said its priority was to keep people in work.
A spokeswoman added it was in the early stages of a 90-day consultation.
"I know it's tough for workers and their families and this community, but there's a job for everyone at Harlow, [elsewhere] in Tesco, if they want it," she said.
'Worse off'
Most of the Harlow workers are being offered redeployment at Dagenham, 20 miles away, with others offered work in Enfield, north London.
Outside the meeting, a worker who did not give his name said he would not take up a job in Dagenham.
"What's the point? It's another two hours on the day, travelling," he said.
"There's the fuel.
"I'm 61 and I don't know what's happening with my pension."
Earlier this week, Harlow MP Robert Halfon said workers would be "fundamentally worse off".
Other Tesco distribution centres affected are Barlborough, near Chesterfield, where 400 people work, and Weybridge in Surrey with 650 staff.
Magor in Monmouthshire, which employs 800 people, will be cutting 150 staff.
The union Usdaw has described the changes as "devastating" for staff and is consulting with Tesco to "explore all possible options to reduce any job losses."