Ex-rotary club president jailed for £3m fraud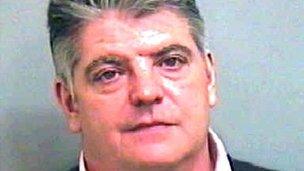 An ex-City trader and former rotary club president has been jailed for five years for conning friends and colleagues in a £3m fraud.
Ian Dickinson, of Nacton Road, Ipswich, was sentenced at Chelmsford Crown Court after admitting two fraud offences while he lived in Frinton, Essex.
Over five years he received investments of more than £11m from 113 victims.
The vast majority lost some or all of their money as less than £8m of this was returned.
The court heard that the 50-year-old father of two conned lifelong friends and colleagues out of their savings with promises of huge returns.
The former Frinton Rotary Club president was a respected member of the Essex seaside town's social set and used this status to gain trust, the court heard.
Prosecutor Rakesh Somaia said Dickinson promised returns to investors by trading in foreign investments.
Victims included fellow rotary members and golf, cricket and tennis club friends.
"His membership of the rotary club in particular was a sign to many investors that he could be trusted," Mr Somaia said.
Mr Somaia said some victims used their life savings, cashed in pension funds or remortgaged their homes, he added.
The biggest single loss to a victim was £188,000.
Passing sentence, Judge David Turner said the fraud involved "alarming" sums of money.
"What you were involved in was a shameful scam, playing on the trust and admiration others had for you," he said.
Gavin Holme, mitigating, described Dickinson as a "well-thought-of individual whose vanity took hold".
Dickinson worked as a foreign exchange broker in London during the 1980s and later joined a Chelmsford-based consortium of investors, initially trading with his own money.
He declared himself bankrupt in December 2010.
Dickinson pleaded guilty to participating in a fraudulent business carried out by a sole trader and another count of not being authorised in relation to a regulated activity.
Related Internet Links
The BBC is not responsible for the content of external sites.