Natalie Creane: Family to appeal wardrobe fall ruling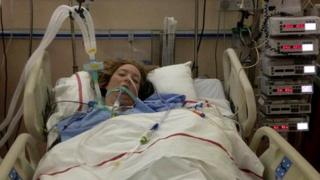 The mother of a British expat seriously injured by a falling wardrobe panel at an Abu Dhabi hotel says her family are appealing a "devastating" court ruling.
An award of £36 for legal costs to cover a £24,000 bill was made by the Abu Dhabi Court of First Instance.
The court also awarded Natalie Creane, of Essex, £36,000 compensation for the incident in 2008. Her lawyers had made a claim of £2.5m.
The Emirates Palace Hotel operator said it had "noted" the ruling.
Ms Creane, 34, suffered brain damage after being struck on the forehead by the overhead panel as she was unpacking while on a £150-night break with future husband Trevor in 2008.
In a statement, the hotel group said: "Kempinski Hotels has respectfully noted the Abu Dhabi Court of First Instance's ruling of 27 February 2013 in the case of Natalie Smith vs Emirates Palace Hotel.
"As the matter is now under appeal before the court, it would not be appropriate to say anything further."
'Deteriorating'
The court ruled that the hotel group and its insurers should pay Ms Creane 200,000 dirham, which is just under £36,000.
It also ordered she should receive 200 dirham (£36). Her lawyers said that award was in relation to her legal costs.
Natalie's mother Angie Smith, of Cold Norton, Essex, has recently returned home from Dubai where she has been caring for her daughter.
Mrs Smith, 63, said their lawyers had made a claim for £2.5m to cover Natalie's medical bills, loss of earnings and future treatment.
She said: "The court decision is devastating.
"It has completely destroyed us as a family because the only hope we have of giving Natalie a near-normal life is to get funds.
'End of tether'
"If we don't get funds she will die, she is deteriorating."
The injury was so severe that Natalie, 34, has been put into medically-induced comas and on life support machines six times to prevent further brain damage, with the last episode just a few weeks ago.
Doctors fear the former human resources director will never recover from the accident at the government-owned hotel and say she now needs specialist treatment.
So far, she and her self-employed husband, who is an office fitter, have spent more than £170,000 on medical expenses.
The family are now appealing against the amount of compensation awarded. The case will be heard at the Abu Dhabi Court of Second Instance on 17 April.
Both Mrs Smith and her husband Derick, 65, have spent long periods helping their daughter in Dubai.
Mrs Smith said: "Natalie is at the end of her tether. She's the strongest, most positive woman you could meet but she can't take much more."