Faulty bike postman wins Royal Mail payout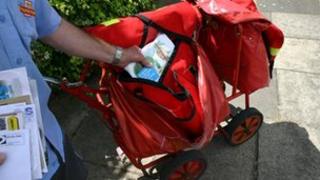 The Royal Mail has paid out nearly £10,000 in compensation to a postman who fell from a faulty bike.
The accident is understood to have happened in 2011 and involved a worker based in Colchester.
The postman suffered a shoulder injury after the chain on his bike snapped. He was treated in hospital.
The Royal Mail has reached an out-of-court settlement with the employee concerned and said the injury was "regrettable".
A spokeswoman for the Royal Mail said staff safety was one of its top priorities.
She said: "Royal Mail regularly inspects its equipment for health and safety issues and prides itself on having a good safety record."
Royal Mail is currently replacing some its bicycle fleet with trolleys and vans.
'Weight off the shoulders'
The reason behind the changes, it said, was that the number of letters sent was in decline while the volume of heavier parcels was on the rise.
"The new equipment - large and small trolleys and small vans - also reduces the risk of injury to our postmen and women from carrying heavier mail bags," the spokesman added.
"These changes do not involve a straightforward switch to vans for those postmen and women who have previously used bicycles. We will not be getting rid of all bicycles and they will remain part of our delivery operation nationally, with decisions taken locally.
"However, removing bicycles from parts of our operation will result in a number of benefits.
"As we deliver fewer letters but more parcels than we did in the past, the switch to vans and trolleys will enable us to take the weight off the shoulders of our staff."