Harlow fire deaths: School benches in honour of Shakoor children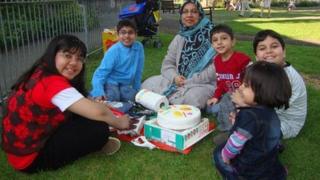 Benches dedicated to the memory of five children who died in a house fire in Essex are to be installed at a school.
Sabah Usmani and her three sons and two daughters died in an attack on their home in Harlow last October, which police are treating as murder.
Work to install five benches, covered by a canopy representing their mother, begins at Abbotsweld Primary School on Monday where three boys attended.
A sixth memorial bench is also being built on the infant side of the school.
The blaze on Barn Mead tore through the house while Abdul Shakoor, his wife Sabah Usmani and their children Muneeb, nine, Rayyan, six, Hira, 12, Sohaib, 11, and Maheen, three, were asleep on 15 October last year.
Dr Shakoor jumped from a bedroom window in an attempt to get help, but he was unable to save any of his family.
'I had to do something'
Police believe the fire was started deliberately by burglars. No arrests have yet been made.
Soon afterwards several funds were set up to support the family and community.
One of those created by Neil and Donna Betteridge, whose son Ben was a class-mate of nine-year-old Muneeb, has so far raised £15,300, which has helped pay for the memorials.
"As a mum I had to do something for the Shakoor family," said Mrs Betteridge.
"I remember standing watching the TV that morning in tears.
"I felt the family needed to be remembered for a very long time for the right reasons and having their tribute in their local school where the children will always talk about them and remember them is the best way."
New playground equipment has also been donated to the school which will be installed.
Leslie Lynn, head teacher, said: "The three boys at the school were very popular and very sporty, so it's only appropriate a jungle gym is built".
It is expected the memorial and equipment will be unveiled at a ceremony in May, which will likely be attended by Dr Shakoor and other members of the local community.