Westcliff-on-Sea 'living room' likened to Tracey Emin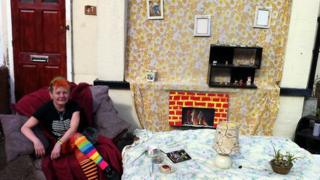 A woman ordered to move an old armchair from her garden has protested - by creating a living room scene in the front yard.
Debbie Ballard, 47, put the chair in her Westcliff-on-Sea front yard and was saving up to have it removed.
Southend Borough Council said it received complaints about the chair and gave her 14 days to remove it.
Instead she put out more items to build a 'living room' likened by neighbours to 'My Bed' by artist Tracey Emin.
"I set this up as a protest against the council which was all started by the armchair," said Ms Ballard.
'New and improved'
"I got a bit upset about this. I turned my yard into a front parlour."
She has written to the council with a picture of her "new and improved front garden" and asked the authority to define "what is rubbish".
"I'm a single-mum with no income. I was waiting until I could afford to get it removed," she said.
"Most people have found it humorous and have had a laugh about it."
The council said it would welcome dialogue with Ms Ballard if she was struggling to get it removed.
A spokesman for the authority said although she had "created a living art space" the situation surrounding the chair remained.
"People have complained," he said, "so we have to have a chat with her about it.
"And if she wants to create an art space she is welcome to speak with our arts officer."