Essex elections focus on roads, transport and potholes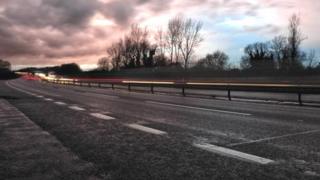 A typical shopping street it might be, but Colchester High Street has also become an unlikely battleground in the Essex County Council elections.
In March it was partially pedestrianised - open only to buses, taxis and motorbikes from 11:00 to 18:00.
Just four weeks later, the Conservative-run Essex County Council scrapped the trial after some residents and businesses objected.
The Liberal Democrats still want to see the road closed to all traffic.
It is a controversial idea and will not go down well with all voters, in a town where the Lib Dems normally do well.
Anne Turrell, standing as a Liberal Democrat candidate, said: "One of the major reasons is that the air quality in the high street was very bad - it would affect people with asthma.
"If we do not reduce it we will be fined by the EU, and [voters] will care about it when their council tax has to go up to pay the fine."
Repair bills
The road to victory in council elections is not always a smooth one.
In fact, it may be littered with potholes.
The Conservatives say they have fixed more than 50,000 road defects in the past year across Essex, but Labour says problems remain.
Julie Young, a candidate who is leading the Labour campaign in the county, said: "There has to be more priority given to pothole repairs.
"One of my constituents went into a pothole and it caused £2,000 worth of damage to his car. I reported it two days before he went into it.
"People get very angry when they have substantial repair bills to face."
Green candidate James Abbott said his group was committed to more investment in rail, footpaths and cycleways and road improvements on the A12 and A120.
A UKIP spokesman in Essex said the party would also pledge to "upgrade public transport, especially in regard to maintaining and reinstating rural bus routes that many communities depend upon."
Essex County Council's main duties are to provide social care, schools, libraries and roads.
However, after the last election, the council launched dedicated accident patrols on the A12, a project to save rural post offices and "Banking on Essex" - a scheme in which the council lent money to small businesses.
But all proved expensive and have since been dropped.
When they were first launched in 2009 by the former Conservative leader of the council, Lord Hanningfield, the schemes made national headlines.
It was the same leader - Lord Hanningfield - who later put the authority in the spotlight for the wrong reasons.
In 2011 the peer was jailed for fiddling his parliamentary expenses.
Major parties
He had stepped down as council leader after the charges were announced the previous year, but that episode might still cast a shadow over these elections.
David Finch, a candidate and Conservative campaign manager in Essex, hopes not.
"When people go to the elections at the county council I think they need to recognise that this is about the county of Essex," Mr Finch said.
"People want to recognise what a competent Conservative administration they've had here, a Conservative administration that has saved, over the last four years, £364m."
In this election, the UK Independence Party and the Green Party are putting up more candidates in Essex than ever before.
They will be hoping to break through and make gains at the expense of the major parties.
BBC Essex will be broadcasting a special election results programme overnight on Thursday 2 May on 95.3 & 103.5 FM.