Maldon arthritis man quits flying over airport security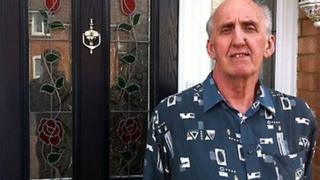 A builder with five metal joint implants has given up flying because of airport security alarms going off.
Roger (Bob) Hickford, 71, of Maldon, Essex, has arthritis and had his first joint replacement - his right hip - 12 years ago.
Whenever he uses an airport, the metal in his body sets off the security alarms and he is taken to one side.
The embarrassment of the alarms and his "painful" wait in queues means he and his wife Rose no longer want to fly.
Mr Hickford, who has replacement joints in his hips, knees and shoulders, has even cancelled a flight to Australia to see their son in Adelaide.
The security alarms are triggered before every flight, he said.
"All the alarms go off and I get pulled to pieces."
When he explains how many joint replacements he has, some staff are suspicious, he said.
'Live with pain'
Foreign airports were especially embarrassing because of the language barrier.
Mr Hickford told how in Turkey - a country of which he and his wife are particularly fond - he would often end up patting his shoulders, hips and knees in an attempt to explain why he was setting off the alarms.
"Everybody looks at me. They are are asking 'what's wrong with him then?' but nothing looks wrong with me.
"I'm in round-the-clock pain, but I don't give that away as I've learned to live with pain."
Instead, he now plans to have his holidays in the UK. Most recently, he went to Great Yarmouth.
A spokeswoman for Stansted Airport said only certain types of implants set off alarms.
She advised people such as Mr Hickford to carry a medical note about their metal implants if they expected to be stopped.
She said airport security guidelines were set centrally by the Department for Transport.