Eddie Stobart cabs to be named after MP's family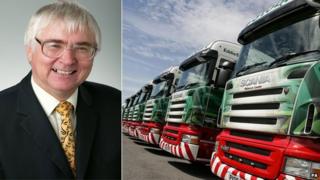 Three Eddie Stobart trucks have been named after the wife, daughter and granddaughter of an MP
Sir Bob Russell, the Liberal Democrat Colchester MP, was given membership of the Eddie Stobart fan club as a Christmas present 20 years ago.
Each of the 2,000 Eddie Stobart cabs carries a woman's name.
Sir Bob's wife Lady Audrey, daughter Nicola Kate and granddaughter Jessica June will soon be among them on the distinctive green and red trucks.
It is thought to be the first time in Eddie Stobart's history that three generations of women from the same family have received the honour.
'Nothing surprises her'
Sir Bob, who claims to have once spotted 154 Eddie Stobart trucks in a single day, said Mrs Russell was "amused" a lorry cab was to bear her name.
He said she had been married to him long enough that "nothing surprises her".
"I'm sure there are many females around the country who would be delighted to have a lorry named after them," he said.
"And I suspect there would be an equal number who would be furious."
Andrew Kidd, spokesman for the haulage firm, said: "When a truck comes to the end of its life, its name is taken off and a new truck comes on, which may have a different name."
The naming of cabs after three generations of Sir Bob's family came about after he mentioned his membership of the fan club to an Eddie Stobart representative at a function.
There are about 2,200 Eddie Stobart trucks on the road and the firm's official fan club boasts no fewer than 25,000 members.