Havens Hospice: Planning appeal over Leigh-on-Sea site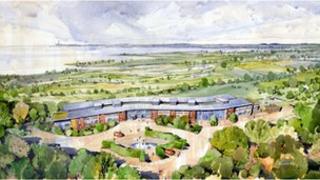 An Essex hospice in "desperate need" for palliative care facilities is appealing over a council's refusal of a new site on green belt land.
Southend councillors unanimously turned down Havens Hospices' £15m building in October because it would disturb green belt at Leigh-on-Sea.
The council said Havens' case did not meet the government's "very special circumstances" criteria.
A public inquiry by an independent planning inspector begins on 18 June.
In October, Havens said the two-storey building would respond to "an urgent need" for extra capacity and that it intended to appeal.
'Cannot wait'
It wants to replace its existing 10-bed hospice based in three converted and extended homes in nearby Westcliff.
The new hospice would be built on land off Belton Way West, surrounded by other green belt, including a woodland and grassland area known as Belton Hills.
It would support day patients and in-patients and include 16 bedrooms, a chapel, day centre, and therapy and counselling rooms.
Catherine Wood, Havens' head of patient services, said: "It's not just every now and then that we have to tell a patient in desperate need of a bed that we don't have one available; it's on a daily basis.
"The amount of distress that causes not only to the patient but their loved ones too, is immeasurable.
"The demand on our services is putting immense pressure on what we're able to provide. Our patients cannot afford to wait."
The council's head of planning, Peter Geraghty, said: "The obligation for an applicant to demonstrate very special circumstances is very challenging because of the importance attached by the government to protecting the green belt from inappropriate development.
"In this case the applicant did not demonstrate very special circumstances as required by government guidance and the application was refused on this and other planning grounds."