Chelmsford Asda worker back on tills aged 88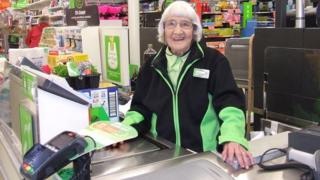 An 88-year-old supermarket worker who retired during the 1980s says she returned to work so she had "something with purpose to do".
Pauline Pole works at the Asda store in Chelmer Village, Chelmsford, Essex.
She worked at the store until she was 60 and under retirement law at the time she had to retire.
But former colleagues encouraged her to come back when the rules were relaxed. Although she has no plans to retire she said she would stop before turning 100.
Mrs Pole, whose son retired aged 55, told how she had worked up to 24 hours a week since returning to the tills.
Mrs Pole said: "I meet people and I have conversations.
"It is nice to come out and have company.
"You know that you've got something with purpose to do rather than just sitting at home thinking you'll do something in a minute."