David Oakes murders: Sister's 'disgust' at Essex Police case handling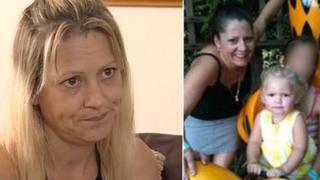 Jeanette Chambers has long maintained more should have been done to protect her sister Chrissie and niece Shania.
Chrissie, 38 and two-year-old Shania were shot dead by Chrissie's former partner David Oakes, 50, and Shania's father, at their home in Braintree in June 2011.
Last year, Jeanette Chambers told BBC News she did not think the force "took domestic violence seriously"
Essex Police have confirmed her fears - not only did the force know of problems in its handling of domestic violence cases, it was aware of them two years before Chrissie and Shania were murdered.
Three internal reports - two published in 2009 and one in 2011 - have been released under the Freedom of Information Act,.
They reveal issues identified in 2009 - such as too few staff and a paperwork backlog - were still to be sorted out in 2011.
One report said this exposed "public safety - and the force's reputation - to significant and unacceptable risk."
The new Chief Constable of Essex Police, Stephen Kavanagh, said the force accepts its response to domestic abuse incidents in the past had lacked consistency and there have been organisational failings.
It was amid these failings that Oakes murdered Miss Chambers. Both were known to police.
During the trial of Oakes in May 2012, the jury heard officers had attended his or Miss Chambers' address at least six times in the two years leading up to the murders.
Miss Chambers was granted a non-molestation order against Oakes just two months before he killed her and their daughter.
Oakes, of Steeple, near Maldon, was convicted at Chelmsford Crown Court and sentenced to a whole-life term. He died in hospital earlier this year of an illness thought to be cancer.
'Extremely let down'
Jeanette Chamber, who lives in Suffolk and has never lodged a formal complaint with the police, said she was "disgusted" at the contents of the newly released reports.
"I am very angry. They often know about their failures and they just try and cover it up each time. I feel extremely let down.
"People would be alive if they had done their job properly.
"It is disgusting. It is alright to say they recognise there's a fault here, but what are they doing, or what have they done, to correct it?"
Mr Kavanagh said the force's response to domestic violence has improved, but there was still work to be done.
He said it was one of the "biggest challenges" Essex Police faced, with around 80 calls reporting incidents every day.
'High risk, high volume'
Laura Richards, founder of the charity Protection Against Stalking, said domestic violence was a "high risk, high volume" area of policing.
"Time and time again, year on year, recommendations were being made and someone was taking a decision not to resource those units," she said.
Essex's Police and Crime Commissioner Nick Alston, who was elected in November last year, said the reports made "disappointing" reading.
"The authors of those reports really cared deeply about this distressing and difficult topic.
"This was an organisation that was trying to come to terms with a problem it was uncovering. I think they are getting there."
"They (the chief officers) have taken responsibility. There's been no ducking."