Homes in Grays evacuated after crash causes gas leak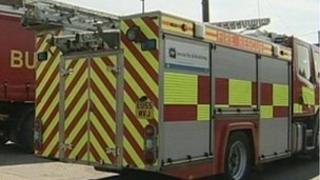 Sixty properties have been evacuated in Grays after a car crash caused a ruptured gas main.
Essex Police said a Nissan Almera and a Toyota Hiace crashed on Stanford Road and one car hit a green box containing a gas main.
East of England Ambulance, Essex Fire and Rescue and officers from Essex Police are at the scene.
Several roads have been closed in the town. Nobody was injured in the crash.
A spokesman for Essex Fire and Rescue said: "We have three spray plates in operation to contain the gas release. As the water hits the escaping gas, it disperses and minimises the risk of fire."
Engineers from National Grid are repairing the leak.