Natalie Creane survival fears in wardrobe panel legal case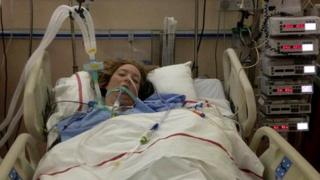 The friends and family of a British expat seriously hurt by a falling wardrobe panel at a hotel have said they fear she may not live to see the outcome of a legal battle.
Natalie Creane, formerly of Essex, was struck on the forehead by the overhead panel in Abu Dhabi in 2008.
Her family is appealing against a court ruling over a compensation award.
The Justice for Natalie campaign said it was worried "time would run out" following an adjournment on Wednesday.
Mrs Creane, 34, of Dubai, suffered brain damage when she was hit by the panel while on a break at the luxury Emirates Palace Hotel with her future husband Trevor.
Her injury was so severe that she has been put into medically-induced comas and been on life support machines.
'Spiralling medical bills'
In February the Abu Dhabi Court of First Instance awarded her 200 dirham (£36) for legal costs, despite a £24,000 bill.
She was also awarded 200,000 dirham (£36,000) in compensation.
Her lawyers had made a claim for £2.5m to cover Mrs Creane's medical bills, loss of earnings and future treatment.
An appeal was due to be heard at the Abu Dhabi Court of Second Instance in April, but was adjourned to give the family time to submit more evidence.
The Justice for Natalie campaign said more than 150 documents, medical reports, pictures and video footage were submitted by Natalie's legal team at Wednesday's hearing.
It was adjourned pending a third medical assessment of Natalie, with a view that her condition had worsened.
The judge also called for a second expert to visit the hotel room and check the panel.
"Overall it is positive, but means even more time will elapse before Natalie may be given the chance of getting the medical help she needs, the peace of mind of knowing she can pay her spiralling medical bills and the hope of a future life free from pain and suffering," the Justice for Natalie campaign said.
"Each day that passes brings more fear that time will run out and that she will not survive her next emergency admission to hospital."
A spokesman for Kempinski Hotels has said it would not be appropriate to comment.