Clacton air disaster fund found after more than 70 years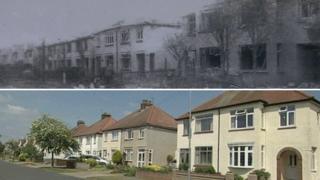 A fund set up more than 70 years ago to help people in an Essex seaside town affected by air raids has been found with about £1,700 in the account.
The fund was established after a German bomber carrying sea mines crashed in Victoria Road, Clacton, on 30 April 1940, killing two people.
About 160 people were injured and 67 houses badly damaged.
Money from the original fund was used throughout World War II, but then lay dormant accruing interest.
The account documents were found recently in an office in Clacton town hall during an office move.
Band leaders
Richard Barret, Tendring District Council's finance and procurement manager said it had been a "fascinating" discovery with information about those who had contributed to the initial fund.
"There is a ledger of donations with names such as world famous band leaders Billy Cotton and Joe Loss, Lady Byng of Vimy, church collections, the General Steam Navigation Co Ltd, 'an offering from a visitor'. along with many more from businesses and individuals," he said.
"The final figure in the book is £1,244 and 12 shillings. Money was then obviously handed out during the war and the remaining £243 put into a Post Office Savings Account in 1950."
The Heinkel bomber crash-landed on Frederick and Dorothy Gill's house at 25 Victoria Road, killing the couple.
The plane had been circling over the town for about half-an-hour before it came down, and the crash was followed by a massive explosion.
Ron Guyott, 82, who was nine at the time, said: "I was in bed asleep. It [the crash] blew in all the windows.
"Luckily the night blinds kept us clear of it. It looked as though [the plane] was sitting on top of a bungalow."
The original fund was administered by officials from what was then Clacton Urban District Council, and continued to be used through the war to help anyone affected by air activity.
Although a bench and a plaque already exist remembering the crash, the council wants to use the money to create a focal point and memorial.