Dartford Crossing M25 congestion survey 'caused' queues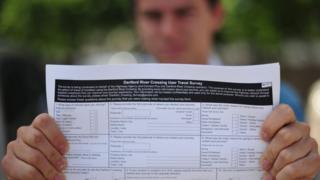 Motorists claim they ended up queuing at a busy crossing - because of surveys for a congestion relief project.
The questionnaire asked drivers using the Dartford Crossing their age, income and times of travel.
The Highways Agency said the surveys on Tuesday would help the planning of a congestion relief scheme at the M25's junction with the A13.
Responding to complaints the surveys caused queues, the agency said there was no "significant impact" on traffic.
One of the motorists affected, who has a Dart tag, said traffic was backing up rather than going straight through because drivers were being handed questionnaires.
"It was congested," she said.
Other drivers took to social media to vent their frustrations.
A Highways Agency spokeswoman said: "There is no evidence to suggest the distribution of the survey (had) any significant impact on regular traffic flows at the crossing, although we did constantly monitor traffic conditions, and days of heaviest traffic were avoided."
Defending its decision to carry out the survey in person rather than online, the agency said it wanted to "directly reach users on what (was) considered an average day".