Essex County Council girls in care 'were prostituted'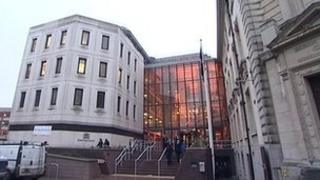 A girl in local authority care has told a jury she was raped and prostituted to "three or four men a day".
The girl, aged 17 and from Benfleet, was giving evidence at Snaresbrook Crown Court where five men from east London are on trial.
She is one of six alleged teenage victims, two of whom were in "supported living flats" in east London, under the care of Essex County Council.
The five men deny all 16 charges including child prostitution and rape.
On Wednesday, the jury was read a transcript and played three videos of police interviews with the girl, who cannot be named for legal reasons.
'Frozen in fear'
She told how she met 25-year-old Naeem Ahmed, from Barking, by chance in December 2011 outside a police station in east London.
Early in their relationship, Mr Ahmed told her he was a pimp, and asked her if she would sleep with men for money.
Telling the court she "loved him" and "would do anything to please him", the girl said she sometimes slept with as many as "three or four men a day - several days a week".
In video evidence, she told of an incident where she was pinned to a hotel bed by Mr Ahmed while two other men - 23-year-old Nabeel Ahmed from Romford and his brother, Jameel Ahmed, 24, from Dagenham, raped her.
The girl cried in court as she told the jury she was "frozen in fear" and "too frightened to call out".
The other two men on trial are Anas Mis Iqbal, 25, from East Ham, who is charged with several counts of rape, and Hassan Raza, 23, from Barking, who is charged with sexual touching.
Kate Bex, prosecuting, described the six girls as "vulnerable", and said they had been exploited by the men.
The trial continues.