BBC Essex debate on new Thames river crossing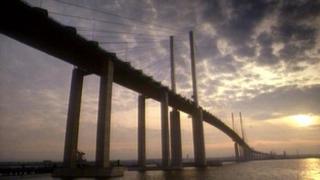 BBC Essex is hosting a debate on plans for a new Thames river crossing between Essex and Kent.
The government has said a new Lower Thames road crossing, costing up to £5bn, is necessary to tackle congestion.
Three locations have been put forward as possible sites:
The site of the existing A282 Dartford to Thurrock crossing
Connecting the A2 at Swanscombe in Kent with the A1089 in Essex
Connecting the M2 in Kent with the A13 and the M25 in Essex between junctions 29 and 30
Variant to option three would also widen the A229 in Kent between the M2 and M20
BBC Essex wants to know what you think about the plans for the crossing. Is it needed and if so where should it go?
The debate is being held at the Hilton Dartford Bridge Hotel at 18.00 BST on 8 July.
Tickets
If you would like to be in the audience, you can request tickets by emailing essex@bbc.co.uk.
You can also write to:
BBC Essex, 198 New London Road, Chelmsford, Essex CM2 9XB.
Tickets are free but are limited and will be allocated on a first-come first-served basis.
The deadline for ticket applications is 30 June.