Colchester Hospital: Concerns over surgeons' death rates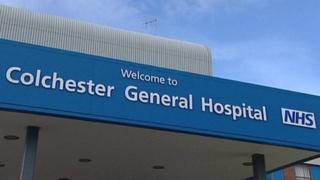 Death rates connected to three unnamed surgeons are among key concerns in a report about an Essex hospital trust.
Colchester Hospitals is under investigation over high death rates as part of a national review of 14 trusts.
A 100-page report has been prepared ahead of a visit by inspectors.
Chief executive Dr Gordon Coutts said the inspection was a "golden opportunity to ensure we are doing everything for patients".
The initial data showed death rates during surgery were higher than expected for three surgeons who are being investigated for rates of infection, and clinical leaks during surgery.
The team was also concerned about maternity, where there had been six serious incidents and the death of a woman.
Inspectors were also reviewing higher than average medical errors, and higher than expected death rates for elderly patients.
Unexpected deaths
The 100-page report gives credit to the trust for monitoring and investigating mortality concerns and reducing avoidable end of life admissions.
Colchester is one of 14 NHS trusts being investigated by NHS medical director Sir Bruce Keogh following the Mid Staffordshire Hospital scandal.
Hospital mortality data suggests over the past two years there were as many as 598 more deaths at Colchester Hospitals NHS Trust than statistically would be expected.
Over the past decade, there have been more than 1,000 unexpected deaths.
Inspectors visited Colchester General and Essex County Hospitals last week and are expected to do so again this summer.
They are also inspecting Basildon hospital and will report later in the year.