Lord Hanningfield 'refusing to negotiate' £50,000 credit card bill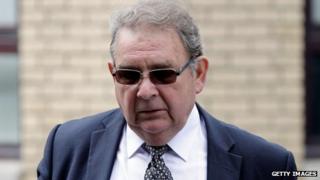 Disgraced peer Lord Hanningfield is yet to repay any of the £50,000 that Essex County Council believes may have been wrongly spent on its credit cards.
The ex-Tory leader of the council spent £286,000 on the cards over five years.
The council said in November it would look to recover any costs deemed inappropriate or excessive but says Lord Hanningfield has not co-operated.
The peer, 72, says the expenses related to his work and claims his trial heard there was "nothing wrong" with them.
"I consider that expenditure either relating to my Essex duties or to my national duties in local government," he said.
Lord Hanningfield was jailed in 2011 for falsely claiming £28,000 in parliamentary expenses.
"At my trial they said there was nothing wrong with my local government expenses, so I don't understand it," Lord Hanningfield said.
"I'm very sad the county council is treating me so badly after all the service I gave it."
Purchases on the credit cards, between 2005 and 2010, included flights to Washington, Delhi, Shanghai and the Caribbean, along with meals and rooms at exclusive hotels.
The Conservative-led council said it had tried its best to enter into negotiations with Lord Hanningfield.
David Finch, leader of the council, said: "I think there is a sum of around £50,000 that he should scrutinise carefully and conclude that he should offer to repay those sums of money."
'Huge embarrassment'
He said legal action was an option that the council would consider.
But Liberal Democrats and Labour councillors have criticised the council's response.
Julie Young, leader of the Labour group, said the situation was "unacceptable".
"A decision was taken by the audit committee to pursue this through the civil courts and that's what I thought had happened," she said.
But Roger Lord, the leader of the UK Independence Party group which is new to County Hall, said the opposition leaders had to take a share of the blame.
"It's a huge embarrassment to the ruling group," Mr Lord said.
"But the Liberal Democrats and Labour haven't been at the forefront of scrutinising these things as much as they should."