Braintree man uses concrete bollards to protect home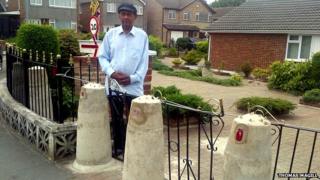 A man from Essex has barricaded his home with seven concrete bollards to protect his property from speeding drivers.
The defences installed by Owen Allan at his Braintree bungalow even block the entry to one of his two driveways.
He said the railings to the front of his home had been frequently damaged by drivers going too fast.
Essex County Council, the highways authority, said it had put in speed bumps to slow traffic.
'Extensive damage'
"I am very, very worried indeed," said Mr Allan, who claims the bumps are not enough.
"Motorists come down the straight road and then go into the right-hand bend but they don't obey the traffic speed limit which is 20mph," said Mr Allan, who has spent more than £2,000 protecting his home.
"They do between 35 and 45mph. We've had extensive damage here."
He said his greatest fear had been of a vehicle striking his property and coming through his bedroom wall at night.
Rodney Bass, the county council's cabinet member for highways, said: "This road forms part of a 20mph zone which is enforced using traffic calming measures."
He said requests for further measures in the street "could be considered" if there was enough evidence they were needed.