Southend Tesco store plan scrapped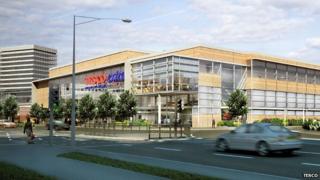 Plans to build a four-storey Tesco Extra, that would have created 450 jobs in Southend, have been scrapped.
The store would have been built on the town's former B&Q site on Short Street next to Victoria railway station.
A Tesco spokesman said the decision came after "careful consideration" and reflects the company's plans to build "fewer larger stores".
Rob Tinlin, chief executive for Southend Borough Council, said he was "disappointed" at the withdrawal.
He added: "We have worked exceptionally hard with Tesco over a number of years to help bring these plans forward for a development which would have been a huge boost to the town.
"We regret that the company, in reviewing its strategy, decided not to proceed with this new Southend store."
Tesco announced in April it would be developing fewer superstores due to changes in customer behaviour and the continued rise of online shopping.
'Key site'
Speaking to the BBC in April, group chief executive Philip Clarke, said: "The large stores we have are great, but we won't need many more of them because growth in future will be multichannel - a combination of big stores, local convenience stores and online."
Dawn Jeakings, chair of Southend Business Improvement District, which helps town centre traders work together, said: "A lot of people do shop online, but people still like to come and shop on the high street.
"The news is disappointing as it would have created more jobs and the increased footfall would have been a benefit, but it's a key site so I can't see it being left idle."