Princess Diana gift tie makes £3,800 in Essex auction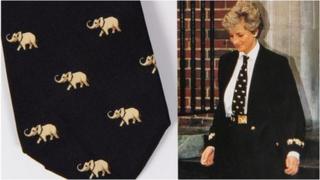 A tie once owned and worn by Diana, Princess of Wales, has fetched nearly £4,000 at auction.
The Escada silk tie, decorated with elephants, was gifted by Diana to the children of a friend in 1995 for their father to wear to a job interview.
It was sold this morning by auctioneers Reeman Dansie in Colchester, which expected it to make between £2,000 and £3,000.
Auctioneer James Grinter said: "She wore it very publicly."