Essex County Council agrees £5m spend on service competition plan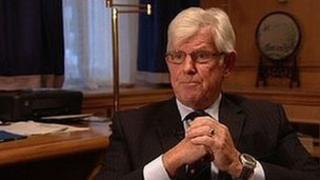 More than £5m is to be spent by a council as part of a plan to offer up its services to competitive tender.
Conservative-led Essex County Council has decided to separate two of its key functions - the commissioning and delivery of services.
It means existing council departments will have to compete with external suppliers to provide public services.
The council's executive body - the cabinet - has agreed a sum of up to £6.7m for legal, IT and other costs.
The scheme, called Transformation II by the council, will give outside organisations the chance to run its services, such as children's and adult social care.
'Very careful'
The council said the extra money would be used on the "implementation phase".
A report to the council's cabinet said the authority needed to save more than £200m a year by 2017 because of cuts to its funding and an aging population.
Council Leader David Finch said job losses were possible but was unable to give any numbers.
"We have a very good reputation in terms of taking care of staff," he said. "We are very careful about how we work with, for and on behalf of our staff."
The Liberal Democrat group on the council has previously voiced its concerns about Transformation II and whether there would be "meaningful scrutiny of the commissioned services".