Peregrine falcon chicks hatch on Essex nuclear reactor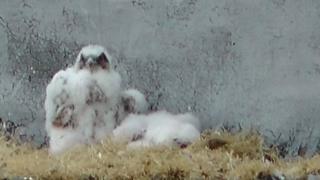 Peregrine falcon chicks have hatched on the roof of a former nuclear reactor in Essex, two months after their parents decided it was a good place to nest.
The reactor in Bradwell-on-sea was in the process of being decommissioned, and work had to be put on hold when the protected birds arrived.
Staff have not been able to get close enough to count the chicks.
Work on that part of the site has been halted until the chicks leave, which is expected to take at least two months.
The birds are protected under the Wildlife and Countryside Act, and staff at the Magnox-run facility are "taking special care not to disturb them", site director Mike Gull said.
Urban nests
"The site receives regular visits from environmental specialists to monitor their progress," he added.
The chicks - thought to be about two or three weeks old - are expected to fledge towards the beginning of July, although they are are likely to stay close to the nest and remain dependent on the adult falcons for a further two months.
There are about 1,400 breeding pairs of peregrine falcons in the UK.
They normally favour rocky cliff tops to make their nests, but the Essex pair chose to build theirs at the industrial site - more than 165ft (50m) above the ground.
Peregrine falcons are increasingly nesting in urban locations, however, choosing tall buildings that may resemble a cliff top.
Pairs have bred successfully in places as diverse as a council office in Buckinghamshire, on top of a building belonging to Nottingham Trent University, and cathedrals in both Norwich and Derby.
The twin reactors at Bradwell-on-sea are currently undergoing decommissioning work. The site was shut down in March 2002 after 40 years of operation.