From Essex to Ecuador for British woman and rainforest shaman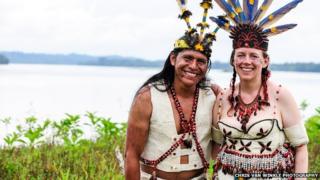 This is a love story and the ending is simple - Mari Muench, from Epping in Essex marries Amazonian shaman and community leader Patricio Jipa and they live happily in Sani, Ecuador.
But exactly when it began is far less clear.
It might have started with the closure of Mari's go-karting business. This was the trigger for her trip to South America.
Or was it when he offered her his hand for a dance at the Sani community centre?
Then again, it might have started decades ago, when a 15-year-old Patricio had a vision of Mari whom he would wait years to meet.
The 49-year-old Mari, who was a Goth in her earlier years, says their story is "completely ridiculous".
She found herself in Sani - a land of forests, creeks and lagoons which is nine days' walk from the nearest town - on the back of a recommendation from her niece.
"It was beautiful and different and I just started to have what I thought would be a normal few days in the rainforest," she said.
"On about the third day I began to have this really weird feeling that I was going to live here.
"I thought I was having a mid-life crisis and I told myself to pull myself together."
The next day, Mari was out on a walk and ended up in the Sani community centre.
'Squirming in my seat'
There she met a man who "looked nice and friendly". That man was Patricio.
Later, at a dance, Mari was praying in her head not to be asked to dance.
"Then a hand came out and it was Patricio. And that was that. I thought 'I'm going to live here, I'm going to live with him and I'm going to have a baby'.
"There were no signs from him, it was all very formal."
Convinced her mind was playing tricks on her, she went off to the capital Quito for a while.
A few months later she met up with Patricio for a fruit juice to talk about her business ideas for the Sani lodge - a tourist lodge run by the Sani community.
"At the very end of the conversation," said Mari, "he asked me what the real reason was for the meeting.
"I was squirming in my seat with embarrassment and I had to go to the ladies' for a break but when I came back I said 'it was because of you'.
"He put his hands on his heart and said 'I knew I would spend the rest of my life with you - now we we will just have to find a way'."
Patricio made sure Mari knew what she was letting herself in for - that he could offer little financially and that her life would be challenging.
"He said he could not offer me anything that I couldn't buy myself. He said 'all I can promise you is that if you die before me, I will hold you in my arms'."
Patricio says although he had met other women over the years none matched the vision of his future wife he had in his teens.
Until, that is, he met Mari.
Mari's mother Doris Dowsett was at home in the UK.
"I got a telephone call when she (Mari) got into the nearest town," said Mrs Dowsett, 91.
"She said 'you know I love you' and I said 'oh no, what have you done?' and she said 'I'm getting married in two minutes' time, and she went back into the jungle."
Although she missed the civil wedding, Mrs Dowsett flew to Ecuador and spent three hours in a canoe to attend the village wedding.
And she can now understand why her daughter fell in love with the people and the place.
'Offended daily'
Three years have now passed since Mari first stepped foot in Sani.
Patricio, Mari and their 18-month-old daughter Samai live in their own plot of land in Sani.
Their nearest neighbours are a 40-minute walk away.
"It is the hardest thing I've ever done," she said. "Everybody helps me although I'm a bit useless at carrying loads and crossing on bridges which are nothing more than planks.
"I wish I had practised the beam more at school.
"Culturally, it is like being slapped around the face 30 times a day.
"But nobody gets offended here.
"You just say what you think at that moment in time, which means you hear a lot of home truths. I feel offended on a daily basis.
"Overall, it is wonderful, though tough."