Owner who left dog to starve banned from keeping animals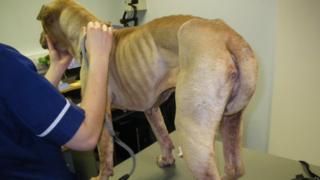 The owner of a dog which was left without food and water for three weeks has been given a lifetime ban from keeping animals.
Holly Berkeley, 20, admitted abandoning the four-year-old shar pei dog when she moved home from Chinchilla Road, Southend, last December.
The RSPCA said Ms Berkeley claimed she was fleeing a violent relationship.
Magistrates in Southend also ordered Ms Berkeley to pay £1,260 and gave her a 12-month community service order.
She will not be able to appeal against the lifetime ban for 10 years.
Ice cubes and food were passed through the letter box of the house, by another person, to help the animal, the RSPCA said.
Inspector Matt Gough said the dog, named Beretta, was in a "pitiable state" when she was discovered.
"Her owner had many chances to ask for help for her dog but she did not do so," he said.
"Even in the most difficult circumstances there is help available. It isn't acceptable to leave an animal to suffer like this."
Essex Police entered the house by force on 2 January after being contacted by the RSPCA.