Robin Blowes death: Southend Hospital fined over safety breach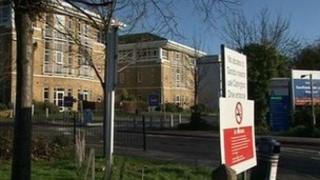 A hospital has been fined £15,000 after a confused cancer patient fell to his death from a window.
Robin Blowes, 69, from Blackmore, fell from a third floor window at Southend University Hospital in July 2010.
Southend Crown Court heard Mr Blowes was moved to a side room when he became confused after surgery.
He fell through a window fitted with a single restrictor. The hospital said it had started replacing windows when the accident happened.
The court heard how a security guard had been posted outside Mr Blowes' room to make sure he did not leave the ward.
When the Health and Safety Executive (HSE) investigated his death, it found the window was fitted with a single angle bracket restrictor.
This, the court was told, had been bent to one side, meaning the window opened fully.
'Entirely preventable'
The hospital was also ordered to pay £15,000 in costs.
An inquest last year heard Mr Blowes had undergone a seven-hour operation to remove his bladder before his death.
The inquest jury recorded a narrative verdict that he was in a "confused and delusional state" when he accidentally fell.
The death of Mr Blowes followed a similar incident in 2007 when a patient fell from a first-floor window injuring their ankle.
After the hearing, Edward Crick, of the HSE, said: "The tragic death of Mr Blowes was entirely preventable.
"Had a suitable window restrictor been provided, as it should have been by the hospital trust, he would not have been able to defeat it and open the window wide enough to fall out."
Jacqueline Totterdell, chief executive at the hospital, said: "The trust sincerely regrets this tragic accident and again we offer our sincere condolences to Mr Blowes' family.
"A full survey has since been undertaken and we can confirm that all windows are now restricted with locked metal wire cable-type restrictors, in addition to others which were already in place.
"We conduct regular inspections of window security to ensure the restrictors are working properly."