Bromfords School bans Megan-Rose Thompson from prom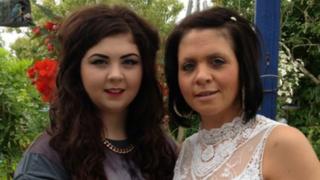 A mother has criticised an "uncaring" Essex school after her teenage daughter was banned from attending her prom.
Megan-Rose Thompson, 16, was told she could not attend the Bromfords School event because she did not have enough credit stamps for good behaviour.
Her mother Silvia Thompson said Megan was being unfairly penalised and that other pupils had cheated the system.
Head teacher Marian Spinks said staff had explained prom attendance criteria to pupils numerous times.
The Bromfords School, an academy in Wickford, is holding the prom for year 11 pupils at Stock Brook Manor, Stock, near Chelmsford, on 10 July.
Tickets cost from £34 to £38 and Mrs Thompson, of Wickford, said she had spent £450 on Megan's dress.
But Megan was told she could not go because she only had 319 stamps in her school planner and 400 were needed.
'Pupils stole stamps'
Mrs Thompson, 36, said Megan had a good behaviour record, had achieved 97.6% attendance and was forecast to get grade C or above in all her GCSEs.
She said some pupils with poor attendance and behaviour were able to attend the prom.
"Megan just forgot about the stamps because she was concentrating on her GCSEs," she said.
"Lots of children stole the stamps from teachers' desks and stamped their cards themselves.
"Megan didn't want to do that because she knew it was wrong. She's being punished for being honest.
"She's heartbroken. It's such a big event in a girl's life."
Mrs Thompson launched a Facebook group, Get Megan To Prom, which has 235 members.
She and her husband Peter, 38, met school governors on Tuesday to try to get the ban lifted.
'Upset for months'
Megan said: "The prom's supposed to be a celebration at the end of your school year with all your friends.
"They're really excited but I can't go. I've been really upset for months."
Mrs Thompson said she planned to send Megan to the prom, despite the ban.
In a statement, head teacher Marian Spinks said: "The expectations and criteria which students need to meet in order to attend the prom have been provided to them on numerous occasions.
"Following a meeting with Mrs Thompson I have investigated her specific concerns.
"After due consideration of all issues raised I have concluded that Megan-Rose did not satisfy the requirements in order to attend the school prom and therefore will not be able to attend."
She said her decision had been upheld by the chairman of governors and explained in writing to Megan's parents.