Essex University uses 'zombies' in evacuation study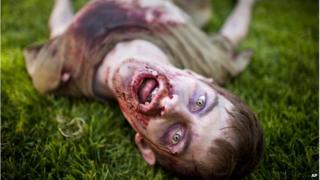 University academics have used simulated zombies to research crowd behaviour in building evacuations.
Essex University collected data using a zombie-themed computer game in which players had to escape from a building.
The research, published in the journal Animal Behaviour, found stressed people did not - as previous studies suggest - "follow the herd".
Lead researcher Dr Nikolai Bode said: "We wanted to look at spontaneous responses to changing circumstances."
He said the serious side to the research was in learning more about how people behaved in evacuation scenarios.
Horde of zombies
The study, he said, could then be used to educate people about how they might react in an evacuation.
Those who took part in the study were told they were a zombie and had to enter and leave a building.
To examine the effects of stress on participants, they were set a time limit to get out of the building.
What the project team found was that when no time limit was set, people would often leave by different routes to those from which they arrived.
Under stress conditions, however, this was turned on its head - with people choosing to leave the same way they came in - even if they were likely to get stuck in a horde of zombies.