Jobless graduate Luisa Downey gives CV to commuters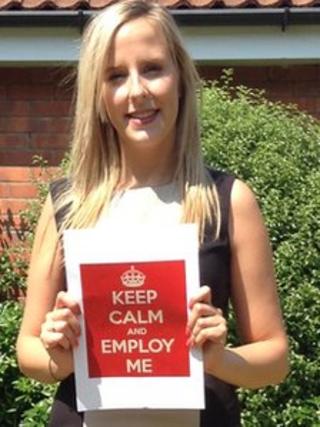 An unemployed graduate has been trying to find a job by giving out copies of her CV to commuters in Essex.
Luisa Downey, from Colchester, has been boarding London-bound trains at her local station and travelling to surrounding towns to target passengers.
The 23-year-old graduated from Essex University in 2011 with a 2:1 degree in English literature and drama but has been unable to find suitable work.
She said she needed to "let employers know that I want to work".
Miss Downey is keen to work in advertising and uploaded a film last week to YouTube as part of her "Keep Calm and Employ Me" campaign.
'Crazy' competition
Over the last two weeks, she has been paying £8 a time to catch the Colchester train from 06:00 BST onwards and getting off at Marks Tey, Kelvedon and Witham before heading back when she has handed out all of her CVs.
The job seeker also intends to walk around London next week with a sandwich board to promote her efforts.
"When I graduated from university I thought it would be a lot easier to find a job but because of the recession the competition is crazy," she said.
"Just sending a CV and covering letter wasn't doing it.
"I thought I'd try to get myself out there and let employers know that I want to work."
Few replies
Miss Downey, originally from Brazil, said she has applied for countless graduate schemes but in many cases never got a reply and only got invited to two interviews.
She did work at an estate agent business but had to leave to find another job as the firm could not sponsor her visa, which ends in November.
Four potential employers have contacted her as a result of her campaign but she said the issue of her visa has been a stumbling block.
She said: "It would be a lot easier if I was English but my grandparents were English, I was brought up speaking English at home and trained up to study and get a job in England.
"People have been really nice and appreciate what I've been trying to do."