Basildon Hospital ex-chief handed £70k payout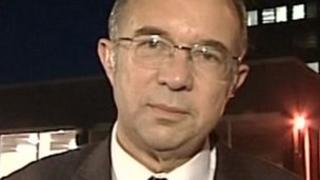 The former chief executive at a hospital sued 200 times in four years was paid £70,000 in compensation when he left, it has emerged.
Alan Whittle resigned from the top job at Basildon Hospital last September.
Basildon Hospital is one of 11 trusts placed under special measures following an investigation by NHS England's medical director Prof Sir Bruce Keogh.
The figure paid to Mr Whittle for "loss of office" is revealed in the hospital's annual report.
The BBC has been unable to contact Mr Whittle, who was paid a salary of about £150,000 and whose pension pot is worth £1.7m, but in the past he has defended his record.
The hospital, which has received warning notices from the Care Quality Commission, is now led by Clare Panniker.
'Improving'
Ms Panniker has said the hospital wanted to learn from "mistakes", "be transparent" and "listen" to patients.
The Keogh review said managers at Basildon had been "swamped" by a "multitude of issues" from previous reviews.
The hospital will be given support in infection control and clinical cover out of hours.
Colchester Hospital, which was one of the 14 trusts investigated by Sir Bruce, was not put in special measures.
Colchester's chief executive Dr Gordon Coutts said: "We accept the report, which identifies a number of areas that require us to take action.
"However, it also confirms that overall both of our hospitals are improving. We understand that we need to make further changes and go on improving."