Victoria Cross medal to go on display in Chelmsford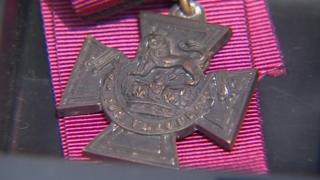 A Victoria Cross which was awarded to a soldier for his bravery in World War I but has been locked away for almost 50 years is to be lent to a museum.
Pte Herbert Columbine, who was from Walton-on-the-Naze, died holding his position against enemy fire in France, allowing his companions to escape.
The medal has been in a bank vault since 1964 but will go on display at Essex Regiment Museum, Chelmsford.
Pte Columbine's family said they were "delighted" the public would see it.
Pte Columbine was 24 when he died on 22 March 1918, eight months before the end of the war.
Taking charge of a machine gun, he repelled hundreds of heavily armed soldiers until he was killed by a bomb.
John Hall, chairman of the Royal British Legion, said the medal was "too valuable" to have been placed on display until now.
"Fortunately the museum in Chelmsford is going to take it on, insure it, and we're letting them have it for a period of three years," he said.
"People can see exactly what he did for his country."
Ian Hook, curator at the museum, said it was with "great pride" that the Victoria Cross and other medals belonging to Pte Columbine would be shown in Chelmsford.
"We'll have it re-ribboned so it looks absolutely spick and span and beautiful for our visitors to see," he said.
The medals go on display from Wednesday.