Twitter account for dog of Brentwood Council member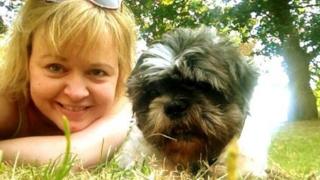 A councillor involved in monitoring the decisions of local authority leaders has set up a Twitter account for her dog.
Bailey was due to be put down when he was offered a home by Liberal Democrat Karen Chilvers.
Ms Chilvers is chairman of the Conservative-run Brentwood Borough Council's overview and scrutiny committee.
But she says Bailey's twitter feed will be "non political".
"I am a bit of a mad dog woman," said Ms Chilvers, who is also on the authority's licensing committee. "But being a politician a lot of people think we're all middle aged men in suits.
"I want to show we can be quite normal and have dogs."