GMC investigates 48 cases at Essex hospitals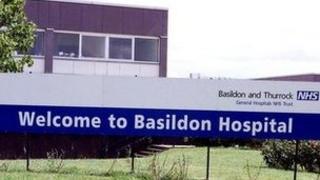 Nearly 50 cases being investigated by the General Medical Council (GMC) after complaints about work carried out by doctors at hospitals serving Essex.
A Freedom of Information Act request by BBC Look East found 48 cases in and around Essex were being looked into by the GMC as of 22 March.
Eighteen cases at Queen's Hospital in Romford - which serves patients from London and Essex - were among them.
The GMC said there was more awareness that concerns should be looked at.
The BBC found seven cases were under investigation at both Colchester and Basildon hospitals.
Broomfield Hospital, Chelmsford, had six cases, and the Princess Alexandra Hospital NHS Trust in Harlow and Southend University Hospital NHS Foundation Trust both had five cases.
In one case, Dr Nikolaos Papanikolaou, who worked at Basildon and Thurrock NHS Trust Hospital, was found guilty of misconduct.
'Reluctance to investigate'
The investigation showed he failed carry out a caesarean section on three people when he should have done, and in one case the baby was stillborn.
He was found to have shown a "reckless disregard for patient safety," said a report by the GMC.
Dr Papanikolaou is in the process of appealing the decision.
Peter Walsh, chief executive of Action against Medical Accidents, said: "Traditionally there has been a reluctance for hospitals to refer doctors to the GMC and for the GMC to investigate doctors referred to them.
"So, although we do not have figures from this area previously in order to make a comparison, it would appear that referrals are being made and the GMC are investigating, which in some ways is a good thing.
"I think there is a greater awareness following Mid Staffordshire that serious concerns about health professionals should not be swept under the carpet and should be investigated by the regulators.
"This is important in order to protect patient safety."
Niall Dickson, chief executive of the GMC, said: "It is nonsense to say we are reluctant to investigate doctors who have been referred to us.
"We are not a doctors' organisation - we are here for patients."