Essex Deanes School closure protest held in Chelmsford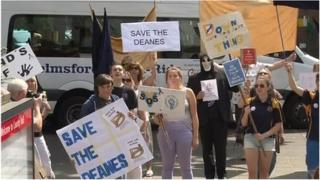 People opposed to plans to close an Essex secondary school have held a demonstration outside council offices.
The county council wants to close The Deanes School in Thundersley because of a projected fall in pupil numbers.
Sarah Raven, of the Deanes Action Group, said more than 3,000 people had signed a petition against the closure, which would "devastate" the community.
The council said investing in necessary improvements to the 1970s building was not a good use of public money.
It had previously proposed investing about £10m in refurbishing and rebuilding the school. However, it later changed its mind and decided to hold a consultation on possible closure.
'Serious concern'
About 800 pupils are on the school roll this year but estimates for the next three years suggest numbers will drop to fewer than 500.
The consultation documents say: "It is not prudent to invest money in a school that has a reduction in pupil numbers, which is projected into the future.
"The numbers were a serious concern.
"When set within the trend the future looked bleak. In place of going ahead with the new build it was decided to consult on possible closure."
Ms Raven said: "Today is the end of the consultation period and we just wanted to mark this event by voicing our opinions just a little bit more loudly, to make sure the message gets across.
"We're not going to give up. We're in this for the long haul."
She added: "People will be devastated if it closes. The school, together with the primary, is the hub of the community in Thundersley."
A public consultation which began in May will end later. A decision is expected in early September.