Catherine Middleton from Southend enjoys 'royal perks'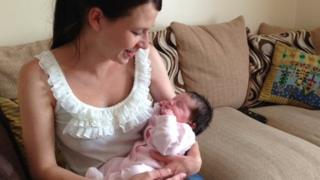 A woman called Catherine Middleton, who has just had a baby, says she has enjoyed the perks of sharing a name with the Duchess of Cambridge.
Miss Middleton, who lives in Queen's Road in Southend-on-Sea, gave birth to Emily earlier in the month.
She said it was "funny" to see how people reacted to her name.
"Everyone gets excited and asks me silly questions about William or royal life," she said.
Miss Middleton, 25, said the high-profile wedding of her namesake and Prince William two years ago was "pretty mad" for her.
'Red carpet'
"I was working a the Co-op and all the merchandise had my name on it," she said.
"People recognised I had the same name as Prince William's soon-to-be wife at the time, making jokes about me getting married to Prince William."
When she became pregnant her due date was within a fortnight of the Duchess of Cambridge.
"I went for my first scan and the consultant recognised my name," Miss Middleton said.
"They were talking about having a red carpet out because they thought the real Catherine Middleton was going to the hospital."
Her daughter was eventually born at Southend Hospital three weeks before the royal baby arrived on Monday.
Asked if she had any parental advice for Catherine , Miss Middleton said she should "sleep as much as she can".
"You don't realise how tiring they are until you have them," she said.