London courier still unconscious after Essex van theft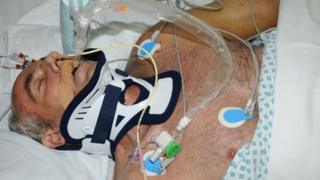 Police have released pictures of a father-of-three seriously injured when he was driven over when two men tried to steal his van in Essex.
Courier David Fletcher, 58, from Upminster, has been unconscious in hospital since the incident on 9 July.
His injuries are "extensive and likely to be life-changing", police said.
Mr Fletcher was making a delivery in Wood Avenue, Purfleet, at lunchtime when two men jumped into his Mercedes vehicle and tried to drive off.
He chased after them and tried to grab hold of the keys through the driver's window, but was dragged along the road for about 33ft (10m).
He was thrown from the moving vehicle which then drove over him.
A neck brace has been fitted and he is connected to various life support devices in an intensive care ward at the Royal London Hospital.
Det Chief Insp Lucy Robinson said: "This is still very much a live investigation and we remain open-minded as to who may be responsible for this horrendous crime.
"Someone out there will know who tried to steal that lorry and so cruelly left the victim for dead, having run him over.
"I would urge anyone with any information to do the right thing and contact the police."
Five men have been arrested and released on police bail until 20 September.