Southend air show brought back by volunteer group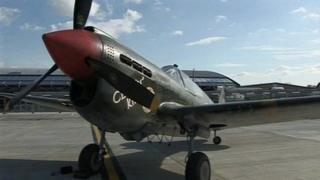 The Southend air show, axed by a council due to budget constraints, is to be brought back next year, thanks to a group of volunteers.
The borough council cancelled the air show in March as part of a bid to save £10m in order to balance its books.
Tom Curtis, 29, who runs a marketing consultancy in the town, spearheaded a campaign to save the air show, but was unsuccessful.
Now he has formed a company that will run the event privately.
Sponsorship and donations
"We've been working quite hard over the last few months," he said.
"We thought that because the air show used to bring a huge amount of money in to the town, there had to be a way to get it going.
"So we put together a small team, which will be expanding next year when we'll be looking for fund-raisers, event management teams and people to print guide books."
The small team has become the Southend Airshow Community Interest Company, a non-profit organisation that uses its assets and profits for the community.
At the moment it has fewer than half-a-dozen members, including Mr Curtis, who is the director, John Delaney, the chair, and a former mayor of Southend, Nora Goodman.
"With the formation of the company we can begin to accept sponsorship and donations," said Mr Curtis.
"We've set ourselves a target of raising £150,000 by the end of the year."
'Great determination'
He said it would cost about £300,000 in total to put on the show.
A spokesman for the borough council said the council fully supported Mr Curtis, who is working with its events team.
Derek Jarvis, cabinet member for culture and tourism, said: "Tom and John have showed great determination to make the Southend Airshow happen again and I have supported them in their efforts."
The new event, which will be on 6 and 7 September 2014, has been renamed the Southend Airshow and Military Festival.
Mr Curtis said: "We wanted to pay more of a tribute to our Armed Forces and there is a huge amount of military support in the town, so it's a fantastic platform to say thanks to our troops.
"And we wanted to give the economy a boost at the end of the summer, which is why we want to put it on at the beginning of September," he added.
He said they already had local businesses offering support, particularly legal and accountancy help.
"The amount of support we've had is fantastic," he said.