Essex Chief Constable calls for mobile phone drivers to be sacked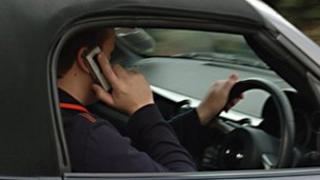 A chief constable has called on haulage companies and others to sack drivers caught texting while on the road.
Using a mobile phone hand-held while driving has been illegal since 2003 and those caught face a £60 fine and three penalty points.
But Essex Chief Constable Stephen Kavanagh says professional drivers should also lose their jobs if caught.
The Road Haulage Association supported the idea, but said it should apply to all road users.
"We need to normalise this as a stupid thing to do because too many people are dying on our roads," said Mr Kavanagh, who last week pulled over a lorry driver caught using his hand-held mobile phone.
'Black and white'
"We've got to make sure professional drivers understand they will be held to account not just by the police but by their employers.
"We need to see professional bodies saying if you get caught using your mobile telephone or texting while you're driving you will be sacked," said Mr Kavanagh.
Essex Police and Crime Commissioner Nick Alston said it was an "interesting idea" and one which should be "followed up".
Last year, 6,800 tickets were issued in Essex for illegal mobile phone use.
Philip Scotney, of the Road Haulage Association, said with the availability of hands-free kits there was "no excuse" for breaking the law.
'Under pressure'
However, he said Mr Kavanagh's call should extend to all drivers and not just those earning their living from the roads.
"We all see it happening. It is black and white, there is no grey. It is illegal," he said.
"For professional lorry drivers there is a specific section in our contracts about the use of mobile 'phones. It says 'don't do it'."
Kevin Clinton, head of road safety at the Royal Society for the Prevention of Accidents (RoSPA), said: "Using a phone behind the wheel should be investigated and dealt with as misconduct according to the company's disciplinary procedures.
"However, RoSPA would not say that an employee should be automatically sacked.
"The result of the disciplinary should depend on the circumstances, such as whether it is the first offence or a repeat offence, and whether the driver has been put under pressure to use the phone by the company."