Essex driveway destroyed in wrong house text message error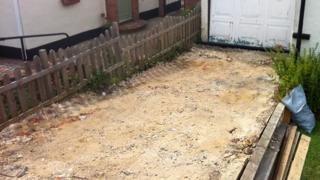 A text message error to a team of workmen has left an Essex homeowner feeling as if a "meteorite" has destroyed her driveway, she said.
Julie Tworogal, from Springwater Road, Leigh-on-Sea, returned home from work to find her drive reduced to rubble.
The workmen, from local firm Bill and Ben Driveways, had incorrectly been dispatched to Ms Tworogal's home at number 82 and not number 110.
The driveways company has offered to replace the drive "basically for free".
Ms Tworogal said: "I went out as normal to work and came home and stood at my driveway thinking there's something seriously wrong. People were twitching at their windows. I thought a meteorite had hit my driveway - it was all smashed up."
Wrong house 'horror'
Neighbours had confirmed with the workmen the house they were at was number 82 before they started the demolition.
Sean Cane, from the driveways company, told BBC Essex: "I texted my guys the address of the job they had to start breaking out and got confused with a job we'd just done at a number 82.
"They'd started breaking out the driveway and about half nine I got a voicemail from number 110 asking where they were.
"I thought this pretty strange, so I drove round and to my horror they were at the wrong house."
Mr Cane said he was "gutted".
Ms Tworogal said she can now "have a joke" about the error now as it was a "genuine mistake".
"We was going to get the work done in about a year's time anyway, just not this soon, but he's making it all good and is going to sort it out basically for free.
"He was just as shocked as I was."