Stansted Airport baggage scan strike talks to be held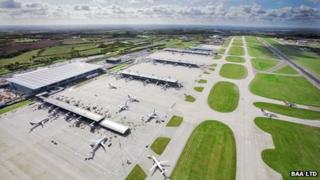 Talks are to be held in an attempt to avert bank holiday strike action by baggage scanners at Stansted Airport.
GMB union members employed by Mitie plan to take action from 03:30 to 06:00 BST and from 15:30 to 18:00 over four days from Friday 23 August.
Mitie said contingency plans to minimise disruption would be in place.
The conciliation service Acas will meet with representatives of the GMB and Mitie on Thursday to discuss the strikes, planned after a row over pay.
The union said its 40 members voted by 92% in favour of industrial action.
GMB regional officer Gary Pearce said Mitie expected union members to agree to the removal of premium rates for working nights or overtime - which were worth 3.5% of pay - to fund a pay rise of 2%.
"In spite of months of talks telling the company this was not acceptable to our members, they went ahead and imposed these pay cuts from June," he added.
A spokesman for Mitie said: "We hope we will be able to reach an agreement with the union, but if we can't, full contingency plans will be put into place to ensure any disruption to passengers is kept to a minimum."