Thomas Brittain stabbing: Two accused men blame each other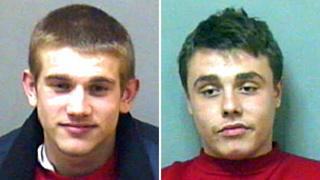 Two men accused of murdering a music producer stabbed during a raid in Essex have blamed each other for the crime.
Thomas Brittain, 26, bled to death, while his friends Matthew Purves and Zoe Lewis tried to protect their children, Chelmsford Crown Court heard.
His body was found at Parkside Quarter, Colchester on 9 March.
Andre Vella, 19, from Village Close, Kirby Cross, and Jack Hummerstone, 18, of no fixed address, deny murder and wounding with intent.
It is alleged Mr Vella and Mr Hummerstone burst into the flat where Mr Brittain was staying with friends in the early hours with the idea of stealing money and drugs.
Mr Vella claims he was persuaded by Mr Hummerstone to take part in the burglary and initially denied possession of an imitation firearm.
Mr Hummerstone has admitted this charge.
Started with lie
His defence barrister Michael Magarian QC told the jury how, armed with a knife and imitation gun, they raided the flat and during a scuffle Mr Brittain was fatally stabbed.
Mr Vella's story has changed and he now admits carrying the imitation fire arm.
Mr Magarian said: "I suggest Jack Hummerstone is a very unpleasant criminal, and so are you.
"You and my client bear joint responsibility for what happened that night."
"Not in the slightest," Mr Vella said. "I did not kill him, he wouldn't have died if Jack hadn't of stabbed him."
The barrister said: "Your case has changed in front of the jury's eyes. The day before the trial you knew Jack Hummerstone was saying he was the gun man.
"Why start the trial on a lie, the lie being saying you were unarmed?"
"I'm manning up to my actions, Jack isn't manning up to what he has done," Mr Vella replied.
The trial continues.